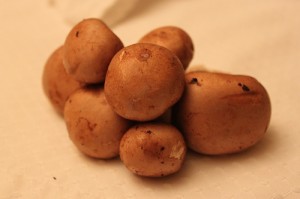 My kids love pasta. I love pasta too, however my waistline does not love pasta. Over the past six months we have had pasta only a handful of times. I am trying to make healthy meals for my family and often pasta does not fall into the healthy category. In an effort to compromise I searched high and low for healthy pasta recipes and found one that I was able to make work for my family.
If y0u love pasta and portabella mushrooms you will love this recipe.
I used all organic ingredients. I used Organic egg noodles, they look a little funny but taste great. The total cost of this meal was $12.00. The total calorie count is 2052. This recipe makes about 6 servings for a calorie count of 342 per serving.
We had enough for the family and had leftovers for both Caleb and I to have lunch the next day.
Ingredients
3 Tablespoons of butter
1 large onion, peeled and chopped
¾ pound of Portobello mushrooms, sliced
1 ½ cup vegetable broth
1 ½ cups plain greek yogurt
3 tablespoons all-purpose floor
¼ cup fresh parsley
8 ounces of whole wheat egg noodles
Directions
Cook egg noodles. Be careful to not over -cook the noodles. Once cooked drain and set aside.
While the noodles are cooking melt butter in a large skillet. Add onion, and cook over a medium heat until tender. Add mushrooms and cook on high until mushrooms are limp and browned. Remove from pan and set aside.
In the same skillet stir in vegetable broth and bring to a boil. Cook until the mixture has reduced by 1/3.  Reduce heat to low and add the mushrooms and onion to the skillet.
Remove pan from heat and stir in the yogurt and flour. Then blend in the mushroom and onions. Return skillet to burner and continue cooking over a low heat. Cook until the sauce thickens.  Stir in parsley and season to taste with salt and pepper.
In a large bowl mix the egg noodles and sauce. Serve warm.
Tags: Mushroom, Portobello, stroganoff