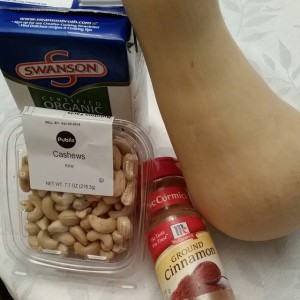 Eating healthy non-processed foods can become boring after a time. In order to conquer our boredom with the same old stuff over and over again I am trying to find recipes that will add variety to our meals. However, most of the recipes I find have way too many ingredients and are too complicated. Also the additional ingredients add calories and sometimes unhealthy components to the dish. I want recipes to be simple and healthy. So many times I will find a recipe that looks good and then modify it to meet the needs of my family.
I love creamy soups. Pre-made creamy soups however are not usually very healthy. Last week while I was making "Creamy Asparagus" soup I learned that you can make a cream base for any soup by using cashew nuts and almond or coconut milk. Cashews and almond milk sound healthy to me. The asparagus soup turned out pretty good, however it was not as smooth as I would like. So I wondered how this would taste with a pumpkin base. One of my friends commented that they thought it would be good with butternut squash. So I decided I would try to make a healthy butternut squash soup.
After reviewing the ingredients used in the asparagus soup I decided that I could not follow the recipe because the spices used in the asparagus soup would not compliment butternut squash. I looked up several butternut squash soups and found them all to contain too many ingredients, some were not at all healthy and others were complicated.  I decided to test out my own recipe. My thought was to use the same things in a soup that I put on roasted butternut squash, and then add the soup base and cream base.
This was only my second time cooking with butternut squash. It is quickly becoming a favorite. This soup turned out delicious. David and I both enjoyed this soup. I believe this recipe would also work great with pumpkin. Maybe, I will try that in the very near future.
Ingredients:
1 Large butternut squash
4 cups of vegetable broth. I used Swanson Organic.
1 cup of water
1 tbls of cinnamon
Dash of sea salt
Dash of cumin
Dash of nutmeg
1/2 cup of raw cashews
1/2 cup almond milk
**I hate recipes that say  add a "dash of."  No one really knows what a dash is. It is really just a little. Just a pinch will do, or more if you would like a more robust flavor.
Directions:
Soak 1/2 cup of cashews in 1/2 cup of almond milk. The longer these soak the better. I soaked mine for about 4 hours.
Peel the squash. Then cut it into chunks. Discard or roast the seeds.
In a soup pot combine the vegetable broth, water,  squash and spices.
Simmer for about 1 hour- until squash is tender.
Once the squash is tender remove from the pot from the burner.
In a blender puree the cashews and almond milk.
Once the cashews and almonds are pureed slowly add in a little of the squash mixture  from the pot and puree. Continue adding the squash mixture to the blender and pureeing until finished. If your blender becomes too full just empty the contents into a large bowl. Once all of the squash mixture has been pureed mix your soup well with a large spoon.
The soup will be nice and thick but also smooth. If you prefer a thinner soup add more water. Water can be added to the mixture after you have pureed everything, or you can add additional water at the beginning of the cooking process.
Also, you may want to roast the seeds and use as a garnish for the soup. I was unable to do this because my oven is not working.
Photo by Donna