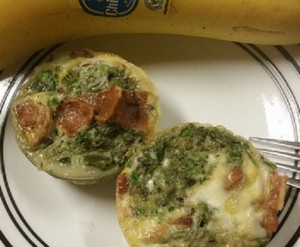 Last week I was thinking about a meal option that I could pre-make and then just heat up for a quick breakfast or pack in a lunch that would be easy to reheat. I scoured the internet for recipes and saw several "egg muffin" recipes that looked promising. However I did not find one that I thought my family would like. So I did what I do best and experimented with my very own Vegetable & Bacon Egg Muffins.
I found these Vegetable & Bacon Egg Muffins to be perfect for my needs. I was able to quickly pack them into a container for my lunches and they made for a very quick no fuss breakfast. These muffins reheated perfectly.  Prior to heating the Vegetable & Bacon Egg Muffins I wrapped them in a paper towel. This helped to absorb any moisture that was released during the reheating process. Paired with a piece of fruit this made for a quick and filling breakfast or lunch.
Prep time for this recipe was about 15 minutes.  Cooking time will vary based upon the oven used, but should range between 20 and 25 minutes. I prepared these on Sunday afternoon and they were still fine to eat on Thursday. So they do keep well in the refrigerator.
Ingredients:
7 slices of bacon
1/2 of a green pepper
1/2 cup mushrooms
1/2 cup red onion
1 cup spinach
7 Eggs
2 Tablespoons of almond milk
Directions:
Pre-Heat Oven to 325 degrees
Fry the bacon in a pan. I like the bacon a little on the soft side, David likes it crispy so we compromised and fried it to an almost crispy state.
Chop all of the vegetables and mix them together. I used my food processer in order to make sure that all the vegetables were chopped into small enough pieces. This was also a quick way of doing it.
Oil a muffin pan with the cooking oil of your choice. I used coconut oil.
Fill each muffin cup about 2/3 full of vegetables. Do NOT pack these vegetable down. Most recipes I saw said to saute the vegetables then put them in the muffin cups. I did not see the point in doing that and then baking the vegetables. I like my vegetables a little crispy and did not want them over cooked.  After tasting the final results I think I made the right decision to not saute  the vegetables.
Crumble bacon pieces and place on top of the vegetables that you have placed in the muffin cups. Once again do not pack the mixture down into the cup.
Mix the eggs and almond milk together. Beat it for about two minutes in order to have nice and fluffy eggs.
Fill each muffin cup with eggs.
Bake for 20 to 25 minutes.
The egg muffins will rise slightly during the cooking process. However, do not be disturbed to find that they will flatten out a bit after cooling. Remove from the pan and place in an air tight container for storage. I place a paper towel between each layer of muffins to help absorb any moisture that may occur.
  Photo by Donna