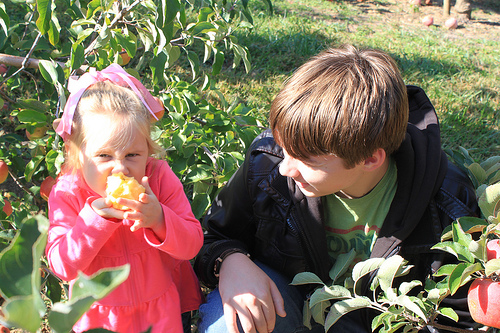 Last year after our annual fall trip to Mercier Orchards I made homemade applesauce. It turned out super yummy. My family said that it tasted so much better than store bought. The recipe is very easy and worth the work. In striving to be more organic I do not add sugar to my recipe like others. I find that using sweet apples adds just the right amount of sweetness.
Ingredients:
Apples- I use a mixture of sweet apples. I love Honey Crisp and Pink Lady, so I do use a lot of those in my mix. Number of apples really depends on how much apple sauce you want to make. I usually do about 20 pounds of apples and can the applesauce for future use.
Cinnamon- to taste (or just leave it out if you prefer)
Lemon Juice- just a squirt or two. Lemon juice will help the applesauce not to become discolored if you are canning it.
Directions:
Peel and core the apples. I found an inexpensive apple peeler and corer at Bed Bath & Beyond. It was well with the money I spent.
Slice the apples.
Place apples in a large pot.
Add about a cup of water. You only need enough added liquid to keep the apples from sticking to the bottom of the pan.
Add the lemon juice- just a splash.
Add the cinnamon. Add enough that you will be able to taste it but not so much that it is all you taste. For one big pot of peeled apples I add about 2 table spoons.
Cover the pot and cook for about 15-25 minutes. Check occasionally.  The apples will be partly broken up and very soft and tender.
Once cooked mash the apples to your desired texture. If you want really smooth apple sauce you can use a mixer or food processer. If you like more textured applesauce use a potato masher or for and mix until you reach the texture you desire.
Once mixed you need to decide on storage for your applesauce.

Keep it in the refridrator in a tightly covered bowl or mason jars. It will keep several weeks stored in this manner
Can the applesauce using proper canning methods, equipment and jars. It will keep for months if properly canned.
I have never tried freezing it, but it may be worth a try to just freeze a small bag to see if it can be successful stored in that way.
My family loves fresh applesauce. We eat it plain for breakfast or as a side at dinner. It is also very good served over pork chops or lamb chops with a side of mixed vegetable rice.