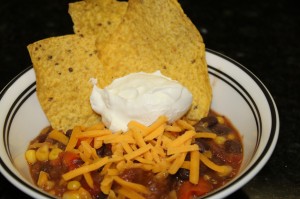 Soup really makes a delicious meal on a cold winter day. Normally, on cold days I make beef stew or chilli. I know my family tires of these meals as do I. So I decided to expand my soup recipes. I searched online recipes for black bean soup and found many, and then decided to take one and doctor it up to fit the taste of my family.
My daughter is not a big fan of soup, chili or stew. So I went into this knowing that she would more than likely turn her nose up at this meal. However, I was surprised when she ate every bite of this soup. When serving meatless meals I often worry if my son will get enough to fill him up, you know how teen boys are.  This meal was hearty enough to satisfy even him.
I use all organic ingredients with low or no sodium in this recipe. If you leave out the optional ingredients the cost of this meal was around $10. The cost will decrease if you use dry beans instead of canned. I fed my family of four with this recipe and had enough left over for my lunches for 2 days.
Ingredients:
1 tablespoon of vegetable oil
1 onion chopped (yellow or white)
1 clove of garlic- minced
1/4 teaspoon of black pepper
2 large carrots, chopped or shredded.
2 teaspoons of chili powder (more if you like it spicy).
1 teaspoon of ground cumin
4 cups of vegetable stock- for a thicker soup use less stock.
2 (15 oz) cans of black beans- drained and rinsed.
1 bag of frozen whole kernel corn. Size does not matter. If you use more you will have a thicker soup.
1 (14.5 oz) can of stewed tomatoes
 Sour Cream (optional)
 Shredded Cheese (optional)
Directions
In a large sauce pan heat oil. Once heated add onion, garlic and carrots. Cook until carrots are softened.
Add chili powder, and cumin. Stir in throughly.
Add vegetable stock, 1 can of beans, corn and pepper. Bring to a boil.
In a blender puree together the tomatoes and 1 can of beans.  Add this mixture to the pot. Stir in.
Reduce heat, cover and simmer for 10 to 15 minutes.
If you like thick soups like my family does just add another can of beans or reduce the amount of vegetable stock. Serve hot and top with cheese and sour cream if desired.
This is the perfect meal for Mondays (our busy day), as it takes 20 minutes or less to prepare.