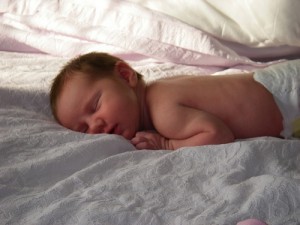 Imagine going from a family of three to a family of four in less than 30 hours with NO ADVANCED notice.  Well that is what happened to our family four years ago today.
It was June 30, 2008. I was in the kitchen cleaning up after dinner. David was upstairs working on something for work, and Caleb was doing whatever 12 year old boys do on a summer night. Our quiet night was interrupted with our phones ringing off the hook. First the house phone, then my cell phone, followed by David's cell phone. We ignored the calls at first because they were from yet another adoption agency and we had recently decided that after 4 years of trying to adopt we were done and needed to move on with our lives. The agency was persistent and the calling cycle started up again. This time David answered the call. After what seemed like an eternity David came to tell me about the situation. We cried, we debated, we worried, and we had hope but did not want to be too hopeful.
The agency gave us a short amount of time (about an hour) to make a decision before they would move on to the next couple on their list of hopeful parents. The situation they wanted us to consider was a "baby born situation." If we accepted the placement we would need to be about 1000 miles away from our home by the next day. After years of waiting we were finally being asked to agree to parent a baby that had already been born and was waiting for us. We agreed to the match around 7:30 pm and were on our way to the airport at 3:30 am the next morning.  I can only describe the next 24 hours as some of the most stressful, nerve racking, and happy hours of our lives. On July 1, at 11:45 pm we met our little angel. The stress of the previous hours just melted away as we experienced pure joy.
Baby born situations are more common than most people think. These situations happen for several reasons and when they occur agencies want to place the children with families as soon as possible. During the rush to get ready to go I kept thinking I wish we would have planned and prepared for this type of situation. However, we did not because no one ever told us that a baby born situation was a possibility. All anyone ever talked about was matches lasting for a few weeks to a few months.
Things all adoption approved families should have a plan for in case of a baby born situation:
Work

: Have a conversation with your employer concerning the unpredictably of adoption and the need for leave with little to no notice. I was so thankful that it was summer so work was not an issue since I am a teacher. David is self employed so work was also a non-issue for him. We felt so blessed that work was not an added stress during this time.

School age children

: If you have children will they go or will they stay? Both options have issues. If the kids are staying home, is the care provider able to drop everything to keep your children should you get a call for a baby born situation? Also, if your children are school aged you will need to make sure that the care provider is listed on the school emergency form to allow for pick-ups and contact to be made if necessary. If your child is going with you and school is in session be sure to contact the school so that you can receive work in advanced or via email. We felt blessed that it was summer so our son went with us and did not miss school.

Pets

: Who will care for your pets? This was one of our biggest issues. I made a call at 9:00 pm asking a friend to take care of the pet I did not want to give too many details about why we were leaving with no notice since I was not 100% sure the situation would work out. I also thought our family should be the 1st to know about our new family member. ICPC took 17 days, and the first friend went out of town for a planned vacation, so while out of the state I had to make calls to find someone else to care for our family pet. In hindsight we should have thought to make arrangements with the vet for our pet to be boarded, with little to no notice.

Payment

: Know the payment options of your agency. Since we were not working with an agency we were unprepared for the method of payment required. We had not paid any fees and the agency wanted payment in full prior to placement. The problem was they would not take a credit card, check, or cashiers check. They wanted a wire transfer, and our main account holder does not do wire transfers. Our secondary bank does do wire transfers but there was not a branch in the town we were in, but a nearby town had a branch. We were stressed trying to figure out how to pay the agency. We had to transfer funds from our main account to our secondary account and then do a wire transfer.

Adoption paperwork

:  Keep a copy with you at all times. If you adopt outside of your home state you will be working with the government in your home state and the government in the birth state of the child. It's the government you can count on papers being lost. Thankfully our consultants were able to fax necessary paperwork that had been misplaced by the government agencies.

Packing List

: Create a packing check list and check it before you leave your house. You do not want to be out of town without prescriptions, paperwork, cameras, chargers, or other needed items.
Photo: Madilyn 8 days old. July 2, 2008.