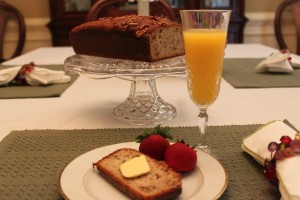 Everyone is always raving about my banana bread. My family even has a conspiracy going to get me to make more of the tasty treat. They pretend they don't see the banana's on the counter and then let them rot, knowing I will make bread instead of tossing them out.
Against my better judgement I am going to post my recipe for all to see and use. It is a very easy recipe and you really can not mess it up. However, it will be a little tricky for you to duplicate it for yourself since a few of the ingredients do not have exact measurements. This recipe makes 2 loaves of yummy banana nut bread.
Ingredients:
1 cup butter, softened
2 cups sugar
6 or 7 large ripe bananas, mashed
1 1/2 teaspoons vanilla extract
4 eggs, slightly beaten
3 cups all purpose flour
Cinnamon (more than a dash but not too much)
Nutmeg (more than a dash but less than cinnamon)
Walnuts- I use about 3/4 of a cup chopped. You can use more or less.
Directions:
Makes two loaves of banana bread.
 Cream the butter and sugar. Blend in the bananas, vanilla and eggs.
 Add the cinnamon and nutmeg.
 Slowly mix in flour and nuts.
 Pour into two greased and floured 9×5 inch loaf pans.
 Bake at 350F. Check on the bread after 35 minutes (it may take up to 60 minutes). Bread is done when a toothpick inserted in the middle comes out clean. Cool the banana bread in the pan for 10 minutes then cool completely on a wire rack.
I generally bake banana bread only two or three times a year. I place the overripe bananas in the freezer and wait for fall and winter to come prior to baking. Each time I bake I make approximately 10-12 loaves. When the bread if cooled I place it in gallon zip lock bags and freeze. These loaves are perfect for taking out the night before for a quick breakfast in the morning. They are also perfect for giving to someone along with a meal you have prepared after the birth of a baby.
 **Photo by the wonderful David Lloyd