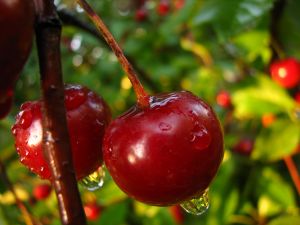 One of my favorite desserts is Dump Cake. I was introduced to this yummy dessert on a Thanksgiving Day about 23 years ago. Since then Dump Cake has been a staple in my holiday meal planning. Of course it is not just for holidays, so I make it at other times during the year too.
Dump Cake is super easy to make and taste awesome. My family loves this dessert, and they can not get enough of it when I do decide to prepare some. This is a super easy and quick treat to make for  family gatherings, work or church socials.
Ingredients:
2 cans of cherry pie filling
2 cans of  crushed pineapple
1 box of vanilia cake mix
Butter
Directions:
Preheat oven to 375 degrees.
Drain juice from pineapple and mix pineapple and cherry pie filling together in a cake pan.
Dump powered cake mix on top of fruit mixture. Spread evenly over fruit. Do not mix into the fruit mixture just spread it over the top.
Cover the top of the powdered cake mix with pats of butter.
Place in the oven. After 10 minutes check the cake. Butter should be melting into the powder. If you have areas of dry cake mix add more pats of butter to the dry spots.
After an additional 10 minutes check the cake again, ensuring that there are no areas of dry cake mix exposed, if there are still spots of dry cake mix add more butter.
Bake for an additional 20-30 minutes or until top is golden brown.
This dessert is extremely hot and should be allowed cool for a while prior to serving. Dump Cake taste wonderful warm or cold and is even better the next day. You can try any variety of fruit to make dump cake. Cherries and pineapple is a favorite of my family. It is also pretty tasty with a scoop of vanilla bean ice cream on top.