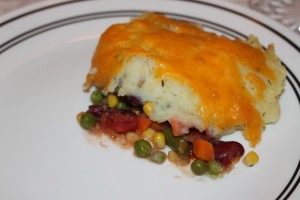 In our quest to eat healthy meals we have been diligently working on trying new recipes. It has been fun finding and tweaking recipes that will work for our family.  One of our new family favorites is Vegetarian Shepherd's Pie.
I found this recipe online but then made minor changes in it to suit the taste of my family. The original recipe called for some spices that we do not really like and used more potatoes. In an effort to reduce calories we cut the number of potatoes used.
I fed my family of four this meal and had leftovers for my lunch for 3 days. This recipe is easy to make and is very inexpensive. I used all organic ingredients in the preparation of this meal which cost me around $18.00 for 8 large servings.  That's a total of $2.25 per serving. Not bad for a healthy meal. Keep in mind if you do not use all organic ingredients the cost will be significantly lower.
To calculate calories I added up the calories in each individual ingredient and divided it by the number of servings. This meal contains 350 calories per serving. In order to reduce calories per serving reduce the amount of potatoes, cheese, milk and butter.  I served this meal with fresh blueberries.
Ingredients
5 large potatoes peeled and cut.
2 medium carrots sliced
1 (16 oz.) bag of frozen mixed vegetables
1 clove of fresh garlic
3 tablespoons for butter
¼ teaspoon salt
¼ to ½ cup of Milk
1 (19 oz.) can of kidney beans (drained and rinsed)
1 tomato (diced)
1 yellow onion (chopped)
1 (8 oz.) can of tomato sauce
1 cup shredded cheddar cheese
Directions
Preheat oven to 375 degrees
Cook potatoes until tender then drain and mash. Add butter, milk, garlic and salt. Mix thoroughly and set aside.
Steam carrots and mixed vegetables until tender and drain.
In a sauce pan, cook onion in oil until tender. Stir in kidney beans, tomatoes, tomato sauce and mixed vegetables.  Heat thoroughly.
Transfer vegetable mixture into a casserole pan and spread evenly. Spread mashed potatoes over the vegetable mixture (do not mix into the vegetables).
Sprinkle with cheese.
Bake, uncovered at 375 degrees for 30 minutes.