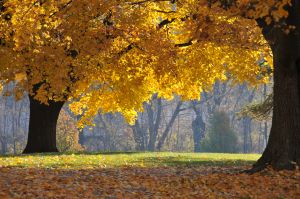 We had another relaxing weekend with perfect fall weather. It is nice to have a slower paced life for a few weeks. I know that before long the speed of life will pick up to an unmanageable pace again.
On Saturday I got to hang with a friend at Starbucks for a little while. It was nice to just sit back, sip coffee, and talk with a friend. On Saturday night I had to work at the school play. One of the benefits of working the plays is that you also get to see the plays. Caleb went with me. The show was, "The 25th Annual Putnam County Spelling Bee." The show was funny but a little too risque for my taste.
On Sunday we started the day with a family breakfast at Cracker Barrel. After breakfast we went to Life Bible Church and had a good time of worship and learning. Chick-Fli-A in Cleveland, TN is doing renovations and donated over 50 chairs, 24 tables, and 2 benches to the church. David went with a team of others to pick up the furniture so the kids and I just had a relaxing day at home.
I love weekends, I especially love fall weekends.