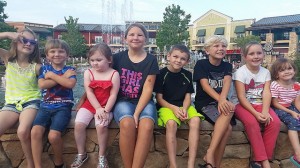 Its a little late, but we have been busy. We have had a great week that ended with a long weekend in Gatlinburg with extended family. It was great to be with so many of our family members. We missed those that could not be with us. While in Gatlinburg we celebrated the 50th anniversary of my in-laws, Aubrey and Diane Lloyd. We had some fun family time, and got to relax and make memories with everyone.
Madilyn is still enjoying second grade. She was not very happy that we skipped school on Friday so that we could get an early start on our weekend. However, she did enjoy playing with her cousins and staying up all hours of the night.
Caleb made it home from California in one piece. He seems to have had a good time working, learning, and having fun. The highlight of his summer seems to have been jumping out of a perfectly good airplane.  I have always wanted to skydive and I am actually a little bit jealous that he was able to do this. You can watch Caleb's experience by clicking this link– Watch Caleb Skydive. On, Thursday of this week  he is headed back to Georgia State University.  I am thankful that he lives close enough to come home once in a while. I really missed seeing him this summer while he was away. However, he had a great experience and can put NASA on his future resumes. He can also cross "working at NASA" off of his bucket list. It is awesome to see him achieving his dreams. I remember when he was 5 years old telling me that he wanted to work for NASA, well he has done that and he may do it again in the future. Only time will tell.
David made the trip out to California to help Caleb drive back home. It was a whirlwind trip. Then just a few days after getting home we headed out for our long weekend in Gatlinburg. Work is keeping David busy, as well as a few side projects. Most of you don't know but David and our pastor have developed a Character Education App for one of our local schools. Last year it launched at the school and they are using it again this year. He is also working on a new app for our church. It is looking sleek, I can not wait for others to see this.  I am proud of him for donating his time and talent to help others.
As for me I am back at work doing what I do. August is my busy time, and I am looking forward to September when things will slow down just a bit. I am working hard at the goals I set for myself earlier in the year.  I am making progress with all of my goals (fitness, Bible study, and blogging).  For now I am happy and feeling blessed.