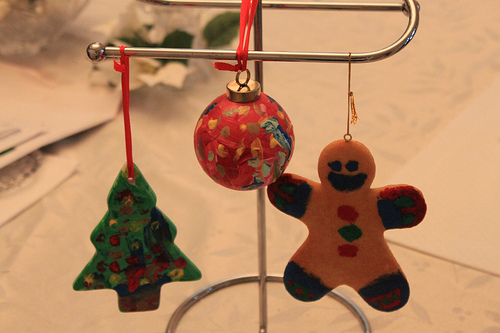 We have lots of Christmas traditions in our home. A few years ago, I decided to start decorating our kitchen for the holidays. When I thought about doing a tree for the kitchen I wanted it to be special and homey. The first idea that popped into my mind was to use crafts made by my kids to decorate the tree. One of my favorite traditions has become having the kids create home made ornaments for our kitchen Christmas Tree.
Every ornament on the tree is either made by one of the kids or features photos of the kids. This year Madilyn made two ornaments a Christmas Tree and a ball.  Caleb did a gingerbread man. I enjoy watching the children create ornaments for our kitchen Christmas tree. Madilyn loves to point out which ornaments she made and which ones Caleb made.This tree has turned out to be very special to me. 

I treasure all of the ornaments on the tree. Each year as we decorate the tree so many memories come flooding back from previous years. I hope we are able to continue creating ornament in the years to come.
Tags: Christmas Traditions, Homemade Christmas Ornaments