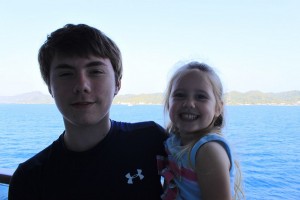 We have just returned from a wonderful family vacation. It was nice to get away, unplug, and reconnect as a family. We spent a wonderful week cruising on the Norwegian Star. We sailed out of Tampa and had a great time visiting Rotan Honduras, Belize, Costa Maya, and Cozumel.
This was Madilyn's first trip of this kind and she had a blast. Normally our cruises are a little more relaxing, but traveling with a toddler can be less than relaxing at times. Caleb also had a great time and met some new friends. While we had a lot of fun on this trip it was also a learning experience and a time for reflection. I will be posting more about what I learned and my reflections during the coming days.
**Photo taken in Rotan Honduras at the pier.

Tags: Cruise, Norwegian Star