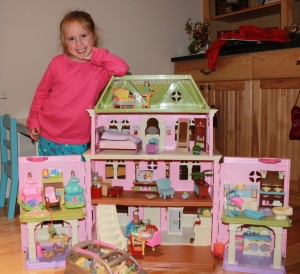 The present that David and I picked out for Madilyn was a big hit with her. We got her the "Loving Family Grand Dollhouse." Seeing the look on her face when she asked "is this for me" when she walked into the living  on Christmas morning brought joy to my heart. She was so surprised.
She absolutely loves the dollhouse. The set we bought came with several rooms of furniture and a family of dolls. Several of our family members sent money to the kids for Christmas so we used Madilyn's money to finish furnishing the house and to purchase the family car.When she was opening her presents she was so excited to see all of the furniture sets. The furniture that goes with this dollhouse is very detailed. Some of the pieces have drawers that open and some make realistic noises. She spent the day discovering all of the special features of this dollhouse.
It was so fun to sit back and watch her play. The stories she came up with were cute. She put her imagination into action with this gift. I hope that she will continue to enjoy this in the months to come.