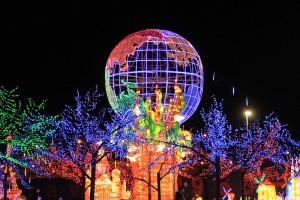 Typically I do not leave my home on Black Friday. However, this year we decided to go to a new event in Atlanta. We went to the "Global Winter Wonderland" at Turner Field.  My sister and her husband were in town visiting and we thought that this would be something cool for us to check out.  The weather was perfect, and the crowds were slim. I can only guess that this night was not crowded due to the fact that everyone was still shopping or at home in bed due to being up all night long shopping. Needless to say we had a great time at the Global Winter Wonderland.
The event features carnival rides, food, shows and many light displays. The shows change nightly, so there should be something for everyone throughout the season. We started our night with a visit to the international food and crafts tent. David, Josh, and I decided on Greek lamb gyros. They were so yummy. Madilyn being the adventurous person she it choose a hotdog and Caleb and Deanna went polish with polish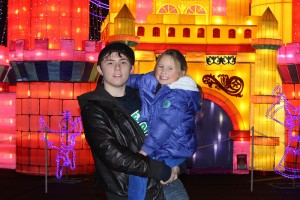 sausage dogs. After dinner we headed out to the carnival rides.
Madilyn had a blast riding the rides. I got a little dizzy riding with her, but we still had fun. David took her on the bumper cars and they had a blast. The carousal was a little fast for a ride that should be slow, but the smile Madilyn had on her face told us all that she was having a blast.
We were able to get great seat at the Universoul Circus. The show started out with the karate guys. They were fun to watch but not the best. We were all enthralled with the high wire act. This group put on a wonderful show that had us all asking how did they do that. The show included 3 of Santa's Elves and they were hysterical. These guys were so funny they had us laughing out loud. The final act of the show was 4 guys riding motorcycles in an iron globe. This was intense and fun to watch. We left this show
feeling like this show alone justified the price of the tickets. It was really that good.
We then took some time to walk among the lantern displays. They had replicas of sites from all over the world.  Some of the displays included Big Ben, Tower Bridge, Sydney Opera House, The White House, Eiffel Tower and many more.  My camera battery died so I did not get as many photos as I would have liked but we did get more than a few. To see our other photos check out our flickr account.