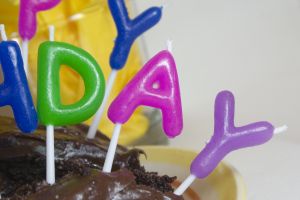 This past week was a one busy for us.  Seems like our family is always on the go with work, school and life in general.
On Friday, we celebrated my birthday by taking a trip to Helen Georgia. While there we visited Habersham Winery (it is our favorite) and stocked up on our favorite wines.  We played a game of  mini golf and even though it was my birthday David did not let me win.  We had lunch at the Troll Tavern by the river and finished up our day in Helen at the Hansel and Gretel Candy Kitchen.  For dinner we ate at a local Italian restaurant called Provino's.  My dinner was free and I did not have to endure being sung too, which was great.  After Madilyn went to bed David and I took a trip to The Frosty Frog to have dessert and just spend a few minutes alone talking.  Over all I had a good birthday.
David is currently working with designer  Greg Sykes to rebrand his company.  We are hoping that when the new branding is complete the business can be relaunched in order to seek out new clients so that we will not be totally dependent on one major client.  Greg did an awesome job with my blog so I am excited to see what he comes up with for David's company.
I have been very distracted the past several days and burnt dinner on Saturday night.  We ended up going out to eat at La Parilla.  Shortly after we got there a Mexican band showed up and started playing live music.  Madilyn loved it, she had the biggest smile on her face and was so cute to watch as she danced. Who knew she liked Mexican music and American songs sung with a Mexican accent.
Our Fourth of July was really a non-event.  It is hard to celebrate when we are still fighting a war that can not be won.  It is hard to celebrate when our freedoms are slowly being stripped from us one by one.  All we can do is pray that something changes soon, or we will no longer have the freedoms that so many people have fought for.
Most of my classes at KSU are canceled this week.  It's a good thing, because the semester is winding down in just a few weeks and I have several big deadlines looming.  I am going to spend most of this week glued to my desk working on these final assignments.  I think a celebration will be in order at the end of this semester. It will be worth celebrating the end of summer school and having 15 out of 30 credits needed for the degree I am currently seeking.