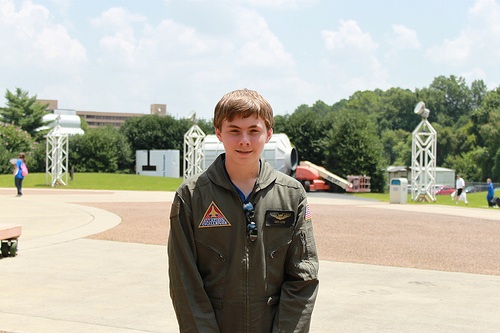 We picked Caleb up from Space Academy on Friday. He had a great time and wants to go back again next summer. He seemed to be in his element while there. He did a combination program of space explorations and aviation. He said that he enjoyed the aviation part more than the space part, but could not really explain why. I am so glad that he enjoyed his time at camp. After the disaster of a science teacher he had last year we are trying to do whatever we can to get him refocused and enjoying science again.
I had braces installed on Thursday. They lasted all of a day before I had my first orthodontic emergency on Friday. Two of the brackets fell off. It was just my luck that we were out of town. I called the orthodontist and he gave instructions on how to temporarily fix the issue I was having until we could get back in town. My wonderful husband became my orthodontist and clipped a wire that was causing me a lot of pain. Sunday I lost another bracket and during the appointment to reinstall the brackets two more popped off. I am hoping that the repairs today worked. After going to the orthodontist I spent the rest of the afternoon at pre-op appointments in preparation for surgery on Friday.
Madilyn is into climbing and jumping now.  She tries to climb up everything and then tries to jump off. We have to keep a constant watch on her and stop her from doing this. Well this week she thought it would be a good idea to dump her tea set out of the box it was in, turn the box upside down, stand on it, and jump off. I saw it coming but could do nothing to stop it. While she was stepping up on the box it slipped out from under her and she fell down hitting her eye on the corner of the box. This injury has not deterred her behavior.
David had a busy week with new releases and testing. He also spent time setting up a entertainment system in our room so that I can watch TV during my period of bed rest. He is going to have a long couple of weeks ahead of him taking care of me, the kids and the house.  I am so thankful that I have been blessed with such a wonderful husband.