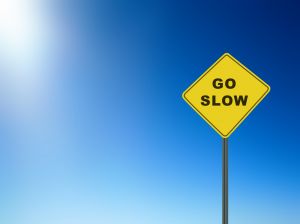 After five years going non-stop trying to be super mom, wife, teacher, and honor graduate student I have come to realize that it REALLY is okay to slow down. Most of us are guilty of rushing through our days and not taking time to enjoy life. We have a drive that forces us to move at the speed of light just to get to the next item on our to do list. We find great satisfaction in checking off item after item on our list as being completed. My normal mode of operation has been get up and go, and don't stop until its all done. I really don't know if I know how to operate any other way.
My days for the past several years have been scheduled down to the last minute.  During the past two weeks I have found that having extra time because I no longer have graduate school responsibilities has allowed me to slow my pace and actually take in what is going on around me.  I am going to try to slow  down and not fill my former KSU time with task. This week I actually sat down for breakfast and enjoyed a cup hot tea prior to leaving for work. I also read a really great novel and had time for a  pedicure.  I even spent three and a half hours at a coffee shop with a friend and spent time with my family. It felt so refreshing to slow down.
When I finished my Specialist degree I developed a plan that would enable me to get the entire house organized by September Break. Our cabinets, garage, and closets need a major overhaul. We need  a lot of organization and purging to occur in these areas. The organization and purging will happen, but it will not happen on the timeline I had originally developed. It will not happen as planned because I am going to take time and slow down. I am going to sit down for breakfast with a cup of hot tea, read a few novels, enjoy fun times with my family, and  have coffee with friends.
Really it is okay to slow down and enjoy life.