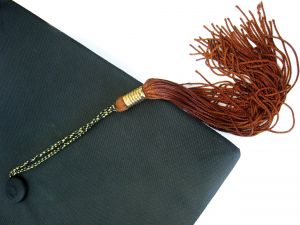 "Graduation is a time of completion, of finishing, of an ending, however, it is also a time of celebration of achievement and a beginning for the new graduate." — Catherine Pulsifer
Today I am thankful to have finished graduate school. When I decided to go back to school in 2007 to pursue a Master's Degree I had no idea what I was getting myself into. I had not been a student since my prior graduation from Lee College in 1995. Last time I was in school, I was in my early 20's, a newly wed with no children and no full time job. I found out quickly that is is so much harder to go to school while trying to be a wife, mother, and full time professional employee.
While working on my Master's degree my life had many changes. We moved homes, I changed jobs and we adopted Madilyn. I thought about putting my schooling on hold. However, with the love and support of David I was able to finish on time in the spring of 2009. I was glad to be finished and to have a new degree in hand.
I found myself drawn to return for even more schooling in early 2010. I enrolled again and began work on a Specialist Degree. Once again during that time I found my life to be full of changes. Recurring physical illness, the loss of a child, loss of David's business location, a fight against depression, and major surgery. I was blessed to have some wonderful caring professors who allowed me to work on my own and to Skype classes while I recovered. With both the support of my professors and husband I was able to continue with my studies and graduated with a 4.0 GPA.
I am finally able to say "I am finished, I am satisfied."  I had a few weeks where I thought about pursuing a PhD., now that is not in my plans. I am thankful for the opportunity I had in continuing my education and the doors that will now be open to me professionally. I am especially thankful that my husband and children supported and encouraged me during my studies. I am so thankful to be finished with the journey toward higher education.
Tags: graduation, thankfulness