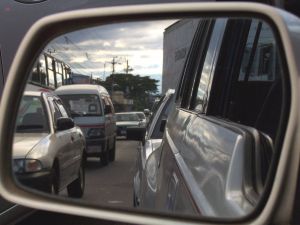 Each year it seems to take less time to fly across the ocean and longer to drive to work.  ~Author Unknown

Today I am thankful for my short commute to work. I an hour or more to get to work I feel like I am in heaven. I love working in the community in which I live. I also love the extra time I have since I am not spending hours on the road each day.
I use my former morning commute time to unload the dishwasher and get laundry started. I am also able to eat breakfast with Madilyn most mornings. I use my former afternoon commute time to go to the gym and to get other household chores completed so that I can spend more time with the family in the evening.  Having a shorter commute has given me more family time, enabled me to be better organized, and has allowed time to get fit. I am also less prone to display road rage to other drivers.
What are you thankful for today?
Tags: commute, thankfulness, work