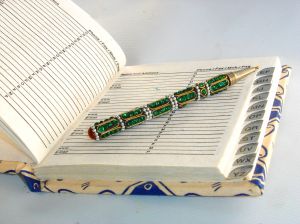 I am taking time today to reflect on a few of the simple things in life. It is good to sit and reflect on life and not just allow it to pass you by. Sometimes we get so busy doing life that we don't experience life. Sometimes we try to make life more complicated, when just a few simple pleasures are all we need.
For Today- December 7, 2011
Outside my window…It is still dark. All I can see are the twinkling Christmas lights in our yard. Not having streetlights does have its advantages. I think it is beautiful, and I am thankful that David took time to create this work of art (picture below).
I am thinking… I can get through the next 8 days of work. The kids have checked out, but as the teacher I can't.
I am wondering… when did my son become almost grown. The time has passed so quickly. This week we will order his class ring. It seems like just a few days ago he was a toddler now he is nearly grown.
I am praying for… The family of the little girl in my community that was brutally murdered and sexually assaulted. It saddens me that crimes against children are a daily occurrence. I can not imagine loosing a child to that kind of violence. My heart aches for this mother and family.
I am thankful for… my job and the benefits it provides. I have to keep reminding myself of that since I have been dealt many unexpected blows this week. I have a job, it is a good job that I enjoy.  I am blessed.
From the kitchen… I am enjoying a hot cup of Carmel Apple Tea. It is delicious and smells so good. The kitchen is clean and tidy, at least for the next few minutes, until the breakfast rush and lunch packing begins. Tonight we will feast on baked chicken and vegetables.
I am wearing…flannel pj's. I love the feel of flannel on my skin and the warmth it provides. I am dreading having to go and dress for work. Why can't we have pj day at work once in a while? I think I would be more productive if I were more comfortable.
I am reading… many blogs from others who post at, "The Simple Woman's Day Book" and Cascade Book 2 in the River of Time series by Lisa T. Bergren.
I am hearing… Nothing but the sounds the house makes when everyone is sleeping. It is rare that I get a few silent moments before starting the day. It is a wonderful and peaceful way to begin a day.  Soon the sounds of morning will be heard throughout the house.
Around the house… We have finished decorating for the holidays and I love just sitting looking at the tree, nativity, and other festive items in our home.
Pondering /Remembering these words… "Not reaching back for what was lost in my yesterdays. And not reaching for what I hope will be in my tomorrow. But living fully with what is right in front of me. And truly seeing the gift of this moment." ~Lysa TerKeurst

A few plans for the rest of the week… Going to visit a boys ranch that is nearby. We will be partnering with them in prayer, and with our finances as we can. Also, planning to attend a chorus concert at school later in the week.
A photo for thought…. My husband out did himself on our Christmas lights. Remembering that the Cross is the reason for the season.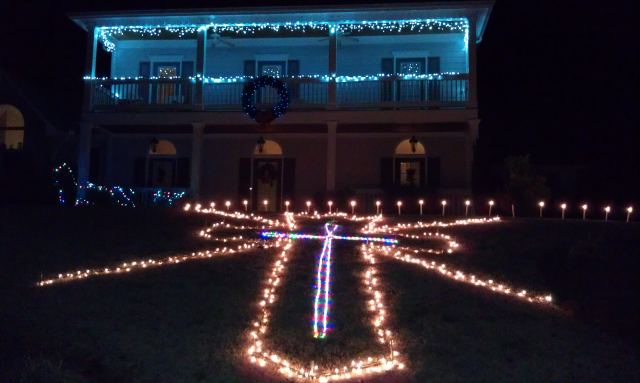 Would you like to linger on the simple things…then join me and many others in taking a little look into the day plans and thoughts of those who are focusing on simplicity…beauty of the everyday moments visit The Simple Woman Daybook hosted by Peggy Hostetler.
Tags: Simple Woman's Day Book