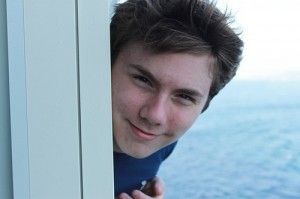 My son is not just another pretty face, he is smart too. We are so very proud to officially announce that Caleb has made it through the first two rounds of the  Georgia Governor's Honor Program (GHP).  He was successful in competing and placing at the local school and county level. He will compete for a coveted slot as a finalist for the program during the coming months. His final competition date is February 2. The results of this final round of competition will not be announced until March 8.
Several have asked me, "What is GHP?"  Well GHP is a four week summer residential instructional program that is held at one of our State Colleges. The program is designed to provide advanced students with challenging and enriching educational opportunities that are not available during the regular school year. Students will live in a dorm for four weeks and attend classes that revolve around their area of study. For Caleb that would be Environmental Science. Other than transportation there is no cost to the parent. Classes, room, board, and educational materials are all provided. This experience will also give him a little taste of what college life might be like.
For the final round Caleb will have to present findings from a research project to a committee of judges. Students will be given a list of 3 topics and will have to choose one topic in which to become an "expert."  He will have to research the background of the issue, solutions for the issue, obtain data for solutions to the issue, and he will need to debate the arguments for and against the current solutions of the issue. He will have to be able to answer questions covering all aspects of the topic he has researched. He will have to also defend his personal position on the topic. I am sure that he will learn a lot through this process.
It will be a lot of work for him to get ready for this final round of competition, but I am sure that he will do well.
**Photo by Donna
Tags: GA GHP 2012