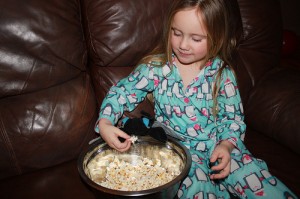 This past week Madilyn got to bring home the class pet. I did not even know that her class had a pet. When David came home and told me that Madilyn had Dudley the class pet I almost had a heart attack. I was thinking no one asked me about bring home the class pet. The last thing I needed was one more thing to take care of.
To my great relief the class pet is a STUFFED dragonfly. Madilyn enjoyed taking care of Dudley. Each week Dudley goes home with a student and that student documents his week in pictures. The pictures are placed in a scrapbook that travels with Dudley from house to house. Madilyn took taking care of Dudley very seriously. She knew where he was at every moment and actually spent time playing with him and talking to him.
We were able to add several pictures to the scrapbook, and it made Madilyn's week to be his caretaker.
Photo by Donna- Madilyn feeding Dudley popcorn.