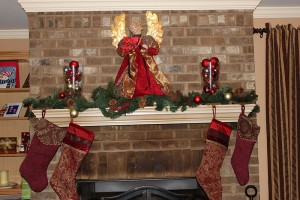 Our halls are decked. I really enjoy having a decorated home for the holiday season. I guess it is easy to do when you have been collecting Christmas decorations for 23 years.
This year I thought about not doing all of the normal decorating. However, Caleb said, "mom we decorate every year, its tradition."  I could tell that even though he does not like the work involved he likes the finished product. Madilyn also loves all of the festive decorations that we display.
My favorite room is the dining room. It just looks so sharp and clean with all of the white. Everything in the room is white or glass. It just sparkles.  The living room with all of its rich burgundy and gold is just so relaxing especially when there is a fire in the fire place.  The kitchen with its tree full of homemade ornaments is just so full of memories. I love all of the decorations the kids have made over the years.