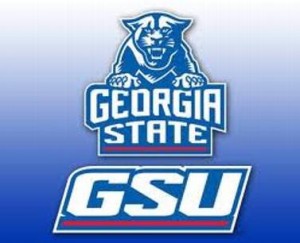 Well it is official we have a college student. I went with Caleb yesterday as he moved into his home away from home in "The Commons" at Georgia State University.
He has a pretty nice setup with 3 roommates, a living/kitchen/dinning area and his own bedroom with a bath shared with one other person. His bedroom is very small but it will be fine for his needs. The building itself is pretty nice with several large public areas and study rooms. Some of those rooms have floor to ceiling windows with great views of the Atlanta skyline.
The college does not allow students to park on campus until after the official move-in period. They need the parking spaces for students to utilize for moving in their belongings. Students with cars have to park them overnight in public lots until the campus parking permits go into effect. I am not a fan of  Atlanta downtown parking. So we deiced that we would just drop him off today, and then return with his car on Saturday. That will also give us a chance to bring him anything that he may have forgotten or has decided that he needs. We have a list going already, including his pillow. The one thing he did not pack early he left without.
I am really excited for him as he begins this new phase of his life. I remember my college dorm days, they were some of the best days of my life. I pray that he enjoys this time and that he and his roommates end up becoming good friends. While I miss him, its time for him to have some new experiences and learn some new things.