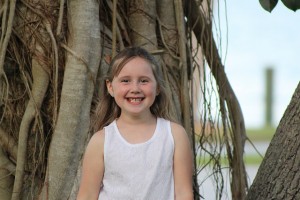 "Our mouths were filled with laughter, our tongues with songs of joy. Then it was said among the nations,  "The LORD has done great things for them." Psalm 126:2
What kind of world would we have without laughter. While I am not a laugh out loud kind of person, I really do enjoy hearing others laugh. I especially enjoy hearing the laughter of my own children. Over the course of the past week I have had several opportunities to experience laughter. We were in Florida for Spring Break with extended family. The kids were constantly laughing and playing. It was so fun to see them enjoying each other and sharing some laughs together.  My daughter and husband love to play and tease each other and the both laugh hysterically at and with each other. Madilyn has a smile that won't quit and a laugh that is just too cute for words.
When life seems overwhelming hearing one of my family members or friends laugh just seems to melt some of the burdens and stress away. It is amazing to me how laughter can lighten our hearts, minds, and souls. It brings us joy and lifts us up. Sometimes we need to choose laughter over tears, and happiness over sorrow. I am so thankful that God created laughter.