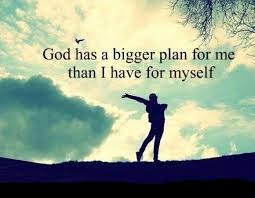 "For I know the plans I have for you," declares the LORD, "plans to prosper you and not to harm you, plans to give you hope and a future.  Then you will call on me and come and pray to me, and I will listen to you. You will seek me and find me when you seek me with all your heart." Jeremiah 29:11-13
I used to be a planner. I planned everything and deviation from the plan was not permitted. Plans are made to be followed not changed once obstacles are encountered. In my mind changing a plan was just as bad as quitting.
Then something happened.
I made a plan I stuck to my plan and I did everything I could do to advance my plan to the next level. However, I hit brick walls in every direction. I spent a lot of time being upset that my plans did not work out. I spent a lot of time second guessing myself and my wisdom in my decision making abilities. Recently I was reminded that my plans don't really mean anything because I have submitted my life to God and his plans mean everything. His plans will always trump my plans. With each passing day I am realizing the wisdom that his plan holds. I am realizing that right now at this time his plan is actually better than the plan I had developed.
I guess I am writing this to say to you, do not become discouraged if your life is not turning out how you expected or how you planned. God has a plan and it is bigger and better than anything you ever could have imagined.  I still make plans, but I do not allow myself to become upset or overwhelmed when the plans are interrupted or the unexpected happens.