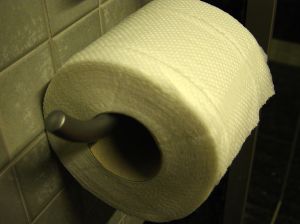 We have exciting news!!! Okay,  I will be honest, it may not be exciting to you, but it is very exciting for me and David. Madilyn has officially reached another milestone in her life. She is potty trained. She said goodbye to her potty chair this past weekend and has started using the "big potty."  I absolutely hate potty chairs. We did not use one with Caleb but Madilyn was so short that it was not safe for her to train using a stool and regular toilet. She has grown several inches in the past few months and can now manage using the bathroom without the potty chair.
Madilyn was very easy to train, compared to some children (her brother).  We were fortunate that once she showed an interest that she stayed focused. It also helped that she has an awesome teacher at school who worked really hard with her during the day. She has been accident free for about two weeks and wakes up dry most mornings. She was super excited a few weeks ago when we got her real panties. She did not like the thick training panties that we made her wear.
Now if we can just get her to stop playing with the toilet paper….
Tags: milestone, potty training