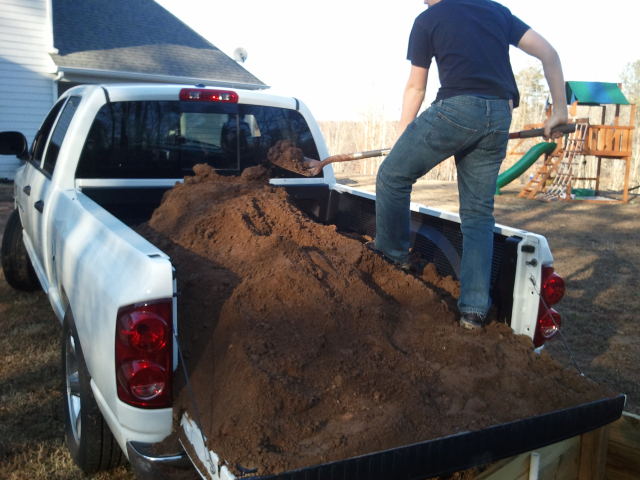 David and Caleb have finished the frames for 4 raised garden beds. The beds are 8 foot long, by 4 foot wide and 13 inches in depth.  The beds have 2 foot of space between them which will be covered  with garden fabric and mulch to prevent weeds and grass from growing in the area.  Caleb and David have already started filling the raised bed with garden dirt. We still need several truck loads of dirt and manure in order to properly fill the garden beds.
Frames for the two flower beds still need to be built but they should be done within the next couple of weeks. I had a large raised flower bed at our last house and I have really missed having fresh cut home grown flowers. I can hardly wait to get the flowers planted.
I am also planning on having a sitting area in the garden this year. I want the garden to be a relaxing place of peace and life. I have it all planned out in my head and it is exciting to see the plans starting to come together.
I have next week off work and I plan on doing a lot of work in the garden area in preparation for spring. I hope to post some pictures of the area after more work has been completed on the area.  For those of you interested in raised bed gardening here is the link we used to plan our beds— http://www.sunset.com/garden/perfect-raised-bed-00400000039550/ If these beds work out I plan on having David and Caleb build a few more in time for a late summer/fall planting.
*Photo by David Lloyd-- Feb. 14, Caleb Lloyd working hard (for once)
Tags: raised garden beds