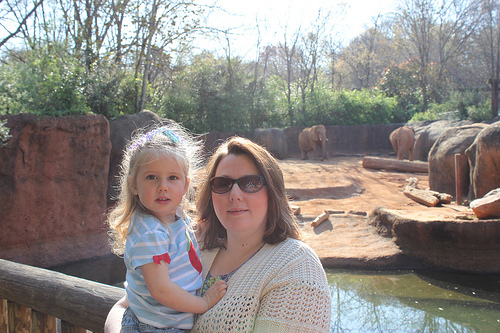 Last weekend we had a beautiful weather. It was the absolute best weather of 2011 thus far.  We decided that it was the perfect day to take Madilyn to the zoo for the first time. She and her classmates had learned about zoo animals all week so we thought it would be the perfect way to spend our Saturday.
Madilyn liked the elephants the most. She also liked all of the baby animals. She got to see a 10 month old baby gorilla, and the baby panda that is only a few months old. When looking at the animals she had the most serious look on her face. I expected lots of smiles, but what we got was a serious faced little girl that looked like she could not believe what she was seeing. She was just super cute and had a lot of fun.
We did not get to see the entire zoo because Madilyn needed a nap and was about to go into meltdown mode.  I recently learned that you can get 4 free passes to the zoo. So we are going to try to go again in the fall.  To get a family pass for 4 you have to check out the Zoo Atlanta DVD from your local library. Once you return the DVD you will receive a voucher for 4 free passes. You must use the passes within 7 days of receipt, so you will need to plan  your trip ahead of time. This is a popular program so it is hard to find the DVD at the local library. However, it is worth trying since tickets  cost $20.99 for adults and $15.99 for children 3 to 11. It should also be noted that you can only take advantage of this offer once per calendar year.
Tags: zoo