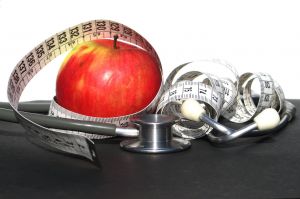 This journey will require you to make tough sacrifices, but look at it as embracing healthy choices rather than denying self.~ Lysa Terkeurst
Last year I got serious about my health. Part of getting serious meant changing the way I think about food and changing my eating habits. I left 65 pounds back in 2011 and they can stay there forever. My plan for 2012 includes continuing on the path to a more healthy lifestyle for myself and my family.
Questions People Have asked me about weight loss.
How much weight do you plan on loosing? To be honest I don't have a goal weight. I want to be healthy. Even after dropping 65 pounds I am still not at a healthy weight.
How do you say no to foods you want but can't have? I remind myself that the food my taste good, but it is NOT good for my health or my body. Now my body craves healthy stuff and I hardly ever want the junk foods I used to eat.
What has been your biggest obstacle? Stress.  I am a stress eater and I am still working on ways to cope with stress.
Do you exercise? Yes, I try to go to the Curves 3 days a week. I also try to take a morning break at work and walk for a few minutes. It not only gets me moving, but clears my head and helps me to think clearer.
How do you stay motivated? When I stay on plan I just feel better that is the biggest motivator. I also go back and reread chapters from the book "Made to Crave" by Lysa Terkeurst.
Being healthy does not happen by accidnet, it happens by making good choices and deciding that you want to be the healthiest you possible.
Tags: questions about weight loss, successful weight loss, weight loss