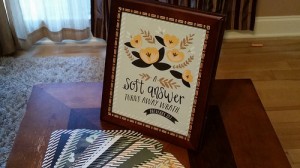 I feel like we dropped the ball with Madilyn concerning the importance of Bible memorization. With Caleb it was easy. We went to a church that had an Awana's program. The Awana program is designed for students to learn and memorize scripture. He also went to a private Christian school that focused on the importance of verse memorization. Madilyn has neither of these things. It dawned on me a few weeks ago that we have not been diligent with helping Madilyn learn Bible verses.
I purchased the "She Reads Truth" ABC Scripture Wall Cards. These cards have a verse for every letter of the alphabet.  I have purchased a frame and display one verse every two weeks in our living room. Displaying each verse for 2 weeks will take us through the entire year. I purchased an 8×10 photo album to store the cards in after the verses are learned. This will be something that Madilyn will be able to keep for years to come.  The framed verses make for a pretty decoration for our living room they have also been a great way for Madilyn and I to work on memorizing verses.
I also found these great ABC Printable Bible Verse Cards online. These are easy to download and print and also contain a Bible verse for each letter of the alphabet. I  printed them and put them and will put them in a  in a small 5×7 photo flip album for her. The photo album is not necessary, however I want these verse cards to last for a while and the photo album will help protect the print-outs I made. I also thought it would be fun for her to decorate the verse cards and turn them into a keepsake.
Madilyn loves reciting the verse each and every night. She has done a great job of memorizing verses using these cards. We also have tested her on previous verses and she really is remembering them.