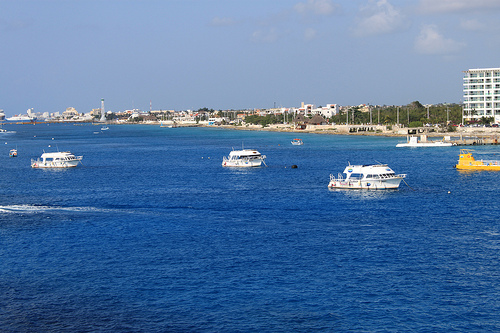 Day 3:  We woke with a view of Cozumel. I could not believe how blue the water was in the port. So very different than the water we have shore side in the states. It looked so inviting I wanted to jump right into the water. Two years ago when we took a family cruise we did a wonderful shore excursion in Cozumel. We decided that we had done so much and seen so much of Cozumel that we would not plan a shore excursion, but spend most of our time on the ship.
We enjoyed a leisurely breakfast, and hours of sitting on the Serenity Deck. Serenity is a deck for adults only, and has the most comfortable cushy lounge chairs. After we ate lunch we ventured onto shore in order to do a little shopping. We found some bracelets for Madilyn and a chess set for Caleb. As a thank you gift to my sister for watching the kids we purchased her a carved stone dish.
Dinner was awesome followed by dessert of chocolate melting cake. We enjoyed talking with our table mates about the adventures everyone had enjoyed during the day. We decided to stay up late and enjoy the comedian in the comedy club. He was super funny. I have not laughed so hard in a long time.
Tags: Anniversary, Carnival, Cozumel, Cruise, Elation, Spring Break