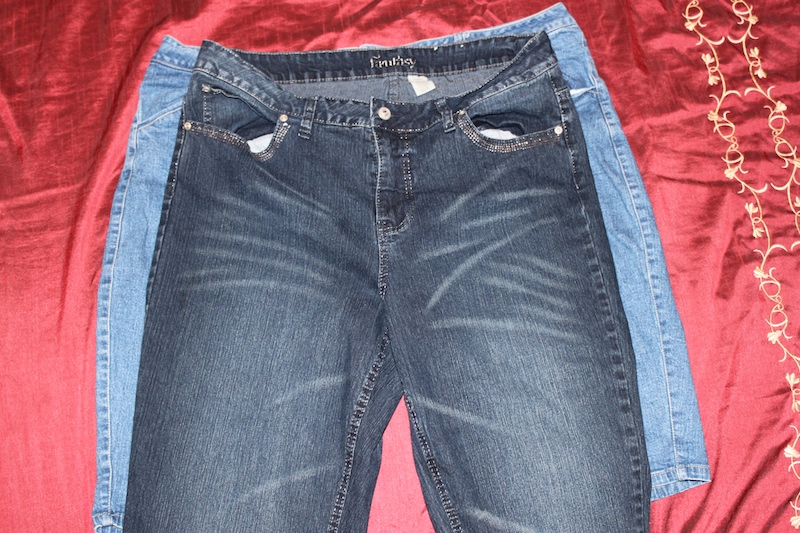 Saying yes to the skinny jeans by saying no to the donuts.  ~Betsy Cañas Garmon
Okay, so they aren't exactly skinny jeans (yet), but I am getting there. The photo shows the jeans I wore this past July as compared to the jeans I now wear. I got this photo idea from my friend Shannon. I can not wait to do another update photo in a few months.
Between August 30 and October 12 I lost a total of 14.75 inches over my entire body. I was so excited to see the progress I had made in just 43 days by changing the way I work out when I go to the gym. The first key was actually GOING to the gym. Over the past several months I had not been keeping a tight work-out schedule. I was happy to make it to the gym once or twice a week. On August 30, I decided to get weighed and measured and to commit to working out a minimum of three times each week.
The second thing I did was add the CurvesSmart component to my workout. CurvesSmart helps to track workouts, repetitions completed, and calories burned. The system then increases expectations and forces me to do more with my workouts over time. The way the system works I can't just go to through the motions I have to work hard to stay in the green. CurvesSmart has helped me to make the most of my workouts and to stay focused while exercising.
0 inches lost in bust (not sure how I feel about that)
1.50 inches lost in waist
6.50 inches lost in abdomen (ecstatic about this)
2.25 inches lost in hips
4.50 inches lost in thighs (really excited about this)
Total of 14.75 inches lost in 43 days.
Tags: curves, curvessmart, weight loss