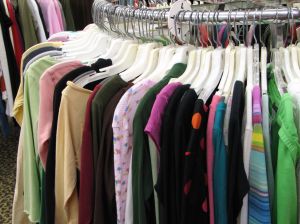 I finally decided that I needed to make a few clothing purchases. I could not continue to wearing baggy and uncomfortable stuff to work. A lot of time in my days have been spent pulling up my pants and adjusting my shirts. I love shopping, but I hate shopping for clothes. I can never find anything that fits just right or that is flattering (in my eyes). I don't know why designers think that over weight people want to were loud colors and designs that verge on being clown like. I don't get it.
When I shop I always shop at the same store, and usually Stacey helps me. She is super friendly and an inspiration in moving forward when obstacles come up in life. During the past several years she has lost her husband and survived breast cancer. My store of choice has been Dress Barn, simply because they have a larger selection of plus size clothing than most other stores in my local area. While the store is more expensive than other stores, they do have clothing that does not look like gunny sacks or clown wear.  This past week I was browsing the racks and Stacey was helping. During our first round of try-on's NOTHING worked. It felt good to know that I now need to shop on the other side of the store. I have not seen the other side of the store in about 15 YEARS.
Stacy took me over the the "normal" size clothing and introduced me to a skinny little girl named Molly. I was informed that Molly would help me since Stacy works in the other department. While I was glad to officially be in what industry considers to be normal sizes I feel like I just lost a friend. Stacey was always honest and would tell me if something looked good, or was the right color. She did not care about making the sale, she cared about me walking out of the store comfortable and happy with my purchases. So Molly set to work trying to help me.
Talk about over-whelming. The clothing on that side of the store has different cuts and numerous styles to choose from. What was suppose to be a fun shopping trip with an awesome milestone met was stressful because I was overwhelmed with choices and I was out of my comfort zone. I spent a ton of time just wondering around the racks of clothing thinking, "this cut/style won't look good on me." I was stuck in thinking that only the same old stuff would work. It is scary what body image can do to your thinking and self-confidence. I lost confidence in myself and my ability to choose an outfit when I was presented with more options and smaller sizes that were different than what has been available to me for years. Shopping on the other side of the store has been one of my goals but boy do I feel lost. I never thought that going from 257 lbs to the 190's and dropping from a 22-24W to a 14/16 would be so overwhelming when it came to the shopping aspect. I did finally find a few pieces to help get me through winter.
As I was leaving the store it hit me that I can now shop at other stores. I am in a size that ALL stores carry. I don't have to worry about the store not having my size, because I am now in what is considered to be a normal size. I am already over-whelmed about shopping some where else but excited at the prospects of finding great outfits for less money. When I drop another size I need someone to go shopping with me. Who's game?
Tags: clothing, shopping, weight loss