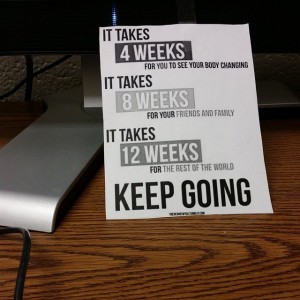 I have seen the saying in the picture on this post hundreds of times. At the start of January I printed the quote. I now keep it on my desk taped to the bottom of my computer screen. Due to the location of this note I am forced to look at it several times each day. It serves as a constant reminder that change is not going to happen overnight.
Just a few days ago I told David, "I am ready to quit, I am not seeing progress."  He said, "no you don't want to quit, you will regret it if you do."  I know that it is too soon to see progress, but I am a progress kind of girl. The more I see the better I do. Progress will come if I keep moving forward. So I will keep moving forward.
I know many people that start health and fitness goals in January and by the end of February they are done. I see it in the gym I work out at. In January it is packed, by mid February it goes from packed to a little crowded then by March it is kind of lonely again. I also see it in the teachers lunch room at work. Right now every one is eating healthy foods and drinking water. Here in a few weeks the carb packed, sugar filled lunches will return, as they begin to give up one by one.
I won't be a quitter.  No stopping, no quitting, no getting discouraged success takes time.
What fitness and health quotes help keep you motivated?
Photo by Donna