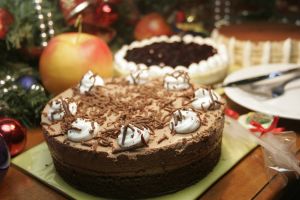 Its hard to continue to drop weight during the holidays. Last week I went to three holiday parties, and had an office and mail room full of tempting treats. I would love to say that I resisted temptation and it fled from me, but I can not honestly make that statement. I resisted for a little while but then I gave into my desire to taste so many homemade yummy goodies. I am disappointed to admit it but I gained some weight last week.  I don't really know why I made the decision to over indulge and eat way too many sweets and other foods that are not good for me. I am disappointed that I did not have the will power to say no or to even say I will eat but I will do so in moderation. I am especially disappointed that I did so well for the past several months only to fall flat on my face this week.
Not only have holiday celebrations been interfering my weight loss but stress has played a role in my lack of progress. I am a stress eater. I have been doing well with managing stress eating but this week I just snapped.  So many things have happened over the past few weeks that the stress just overtook me and sent me flying back to my old stress related eating habits.
I have tried to loose weight several times and in the past I let a few gained pounds and feeling like a failure get the best of me and I gave up. Giving up resulted in gaining all the lost weight back. Giving up is not an option this time around. I am still on the journey of becoming a healthy person. I am still proud of my accomplishments. I will not let the indiscretions of last week keep me down. I am getting up dusting myself off and moving forward.
Today,  I went to the gym, contacted my accountability partner, prayed, and came to terms with the fact that I am not a failure. I am a human in a human struggle depending on God to help me continue on this road to a more healthy life.
Tags: diet, stress eating, weight loss